CoGG Approval for second Telstra Tower
City of Greater Geelong Planning department have approved a second communications tower on Argyle St Little River.
Despite opposition and objections from local residents
Despite CoGG's own recently released Avalon Corridor Strategy draft document stating:
Number 1 Key Principle is to "Protect open rural landscapes and viewsheds towards the You Yangs".
This makes a mockery of the whole Avalon Corridor Strategy.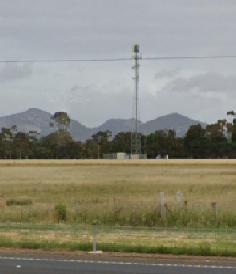 There are no other communications towers north of the Freeway in the You Yangs "View Shed". Why this one?
Picture a second tower next to the existing one. The existing one should be removed, rather than another one. There are plenty of alternative sites south of the Freeway.
This new tower is a replacement for a Telstra tower that was on Pousties Rd, Avalon. For some reason it was closed down.
There are dozens of more appropriate sites for a communications tower.
This one has a number of residents within 300 metres of the tower. Studies have shown to be detrimental to health and well being.
There are locations (like the one down Pousties Rd) that are kilometres from any residents.
Once this tower is built, it will be there for the next 50 + years. Visual pollution at its best. Testra and CoGG should be ashamed.
Why – when we put up good arguments – do we just get ridden over by faceless bureaucrats who won't give any information on the reasons why they knocked back the objection? Is this democracy?
Would the English allow a tower to obstruct the view of Stonehenge? Or the Japanese put up a tower in front of Mt Fuji? Or the Indians in front of the Taj Mahal? Only we would be stupid enough to degrade and ruin our views. Well done Telstra.
What to do?
Please join with us in objecting to this tower.
What can you do to help?
contract CoGG
contact your local councillor
contact your local member of parliament
contact Telstra
When will the local government listen to the local community – their own rate payers?
Its time all areas of government started to govern for the people, rather than their own self-interests, and being in the pocket of monied up people and big business.