The Avalon Corridor Strategy Draft Report is now available. See https://yoursay.geelongaustralia.com.au/ACS. Until 21st September 2021 you can have your say and make a submission regarding this proposed strategy.
The document has the fingerprints of Avalon Airfield and the big land developers all over it. There is not much in the document about Little River – It is basically just don't get in the way of the big boys – and don't rock the boat so Avalon flight paths can continue over the area. Apart from that, there is no vision and no plan for the area. How will it affect you?
Now is the time to be aware of proposals that will affect you, your land and Little River for generations to come.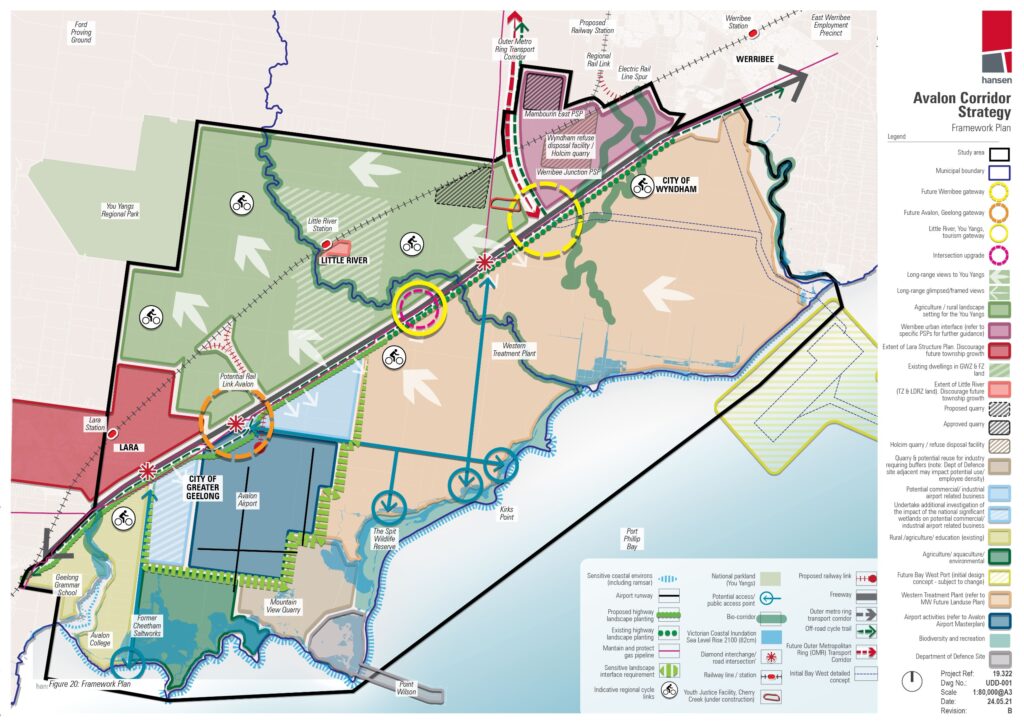 Framework Plan
Is the main output of the ACS. It identifies:
Land to be protected for cultural and heritage, environmental and landscape character values
Land with capacity to be developed for crutical infrastructure and employment generating uses
Measures required to maintain a green break between Geelong and Melbourne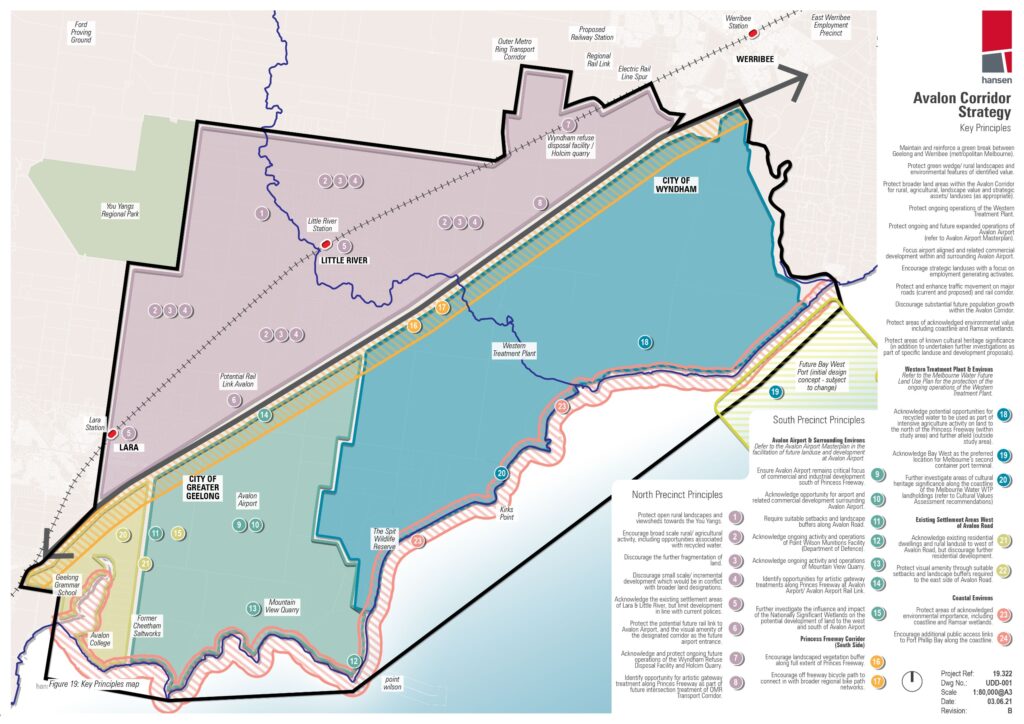 Key Northern Precinct Principles
Protect open rural landscapes and viewsheds towards the You Yangs
Encourage broad scale rural/agricultural activity, including opportunities associated with recycled water
Discourage the further fragmentation of land
Discourage small scale/incremental development which would be in conflict with broader land designations
Acknowledge the existing settlement areas of Lara and Little River, but limit development in line with current policies
Protect the potential future rail link to Avalon Airport, and the visual amenity of the designated corridor as the future airport entrance
Acknowledge and protect ongoing future operations of the Wyndham Refuse Disposal Facility and Holcim Quarry
Identify opportunity for artistic gateway treatment along Princis Freeway as part of future intersectio ntreatment of OMR Transport Link
ACS Issues
Can you build on your land?
Why are small acreages classed as Farm Zone?
Maintain the "Viewshed" to the You Yangs
Can they fix the Little River?
Can the Little River be a wildlife corridor?
WIll CoGG start doing their share?

Fix the roads
Fix the weed problem
promote small agribusinesses
A Plan & Vision for Little River
Can LIttle River be promoted as a conservation area?
Why not some limited development in LR?

Give LR a heart – a small shopping centre
lack of community in LR
lack of basic facilities most towns enjoy
a Hub to promote eco-tourism
Area for tourists & community to meet for a coffee
Can we work with Avalon instead of them fighting us (LIttle River)?
Can the area be a recycled water zone?

agri-tourist area
boutique agri-businesses
horticulture
other non-offensive intensive agriculture

Bicycle paths and walking tracks to and through conservation zones

to You Yangs
along Little River
to Western Grasslands Reserve
to and through Western Treatment Plant (RAMSAR area)
to Mt Rothwell Conservation area

The Little River Brand

promote co-op enterprises
outlet for LR products
encourage agri-tourism & eco-tourism
take advantage of proximity to fwy and Avalon